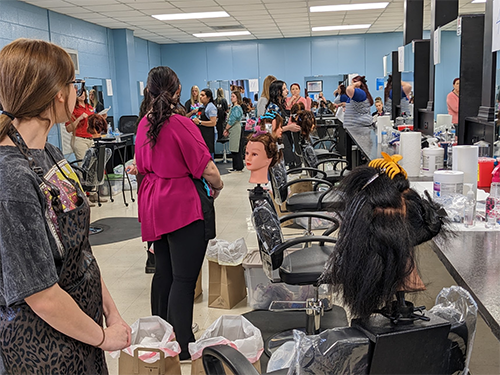 Sumner County Skills Competition
Click HERE for pictures from the event.
The Sumner County Schools Career and Technical Education department hosted its third annual Skills Competition today. High School students competed in multiple divisions including AutoCAD, Automotive, Cosmetology, Criminal Justice, Machining, and Welding competitions. More than 20 teachers were involved to make this a successful event for our children.
We are proud to recognize the essential role that Career and Technical Education plays in Sumner County. Thank you to Tennessee College of Applied Technology, Gallatin Police Department and Sumner County Sheriff's Office for today's help.
CTE, formerly known as vocational education, helps students gain work experience through job shadowing, on-the-job training, internships, and industry certifications. Sumner County Schools leads the state in pathways for our students! Thank you to all of our CTE teachers and Supervisor of CTE and STEM, Chase Moore! Lunch was provided by FWE Food Warming Equipment.
Congratulations to today's winners:
AutoCAD
1st - James Stubblefield (Portland HS)

2nd - Kaden Street (Westmoreland HS)

3rd - Charles Laux (Portland HS)
Automotive
1st - Luke Pitt (White House HS)

2nd - Tony Jeffery (White House HS)

3rd - Aidan Richardson (White House HS)
Cosmetology
1st - Alexis Grim (Portland HS)

2nd - Jordan Curtis (Portland HS)

3rd - Emily Finn (White House HS)
Criminal Justice (CSI)
1st - Gallatin HS

2nd - Beech HS

3rd - Hendersonville HS
Felony Stops
1st - Gallatin HS

2nd - Hendersonville HS

3rd - Beech HS
Field Sobriety
1st - Gallatin HS

2nd - Hendersonville HS

3rd - Portland HS
Overall Criminal Justice
1st - Gallatin HS

2nd - Hendersonville HS

3rd - Beech HS
Machining
1st - Grace Sutton (Portland HS)

2nd - Gordon Russell (Portland HS)

3rd - Wyatt Harrison (Westmoreland HS)
Welding (Stick Welding)
1st - Dylan Dionne (Portland HS)

2nd - Brady Williams (Westmoreland HS)

3rd - Logan Arnold (Portland HS)
Welding (TIG Welding)
1st - Rachel Nelson (Portland HS)

2nd - Garrett Bruce (Gallatin HS)

3rd - Jared Courtney (Portland HS)