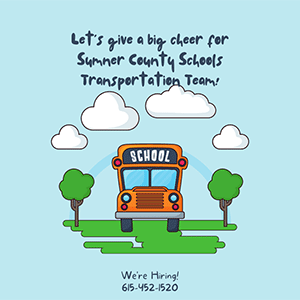 SCS Transportation receives $200k Grant
Congratulations to our Transportation Director Andrew Grasty and his team! They have been awarded $200,000 in federal grants to purchase 2 new school buses. We buy 15 new school buses every year. Currently, we have more than 225 in our fleet. According to Tennessee law, we can only keep a school bus on the road for a certain length of time and mileage, so on average we are replacing 15 school buses every year. The cost of a school bus is $100,000.
We drive 726 runs a day for a grand total of 7,902 miles every day. (That mileage does not include field trips or sporting events.)
Thank you to our amazing transportation department for working hard and earning this grant. Sumner County Schools is the only school district in the state to be awarded with the 2021 Diesel Emissions Reduction Act (DERA) School Bus Rebate Award. The two new buses will be eco-friendly.
Check out the full story HERE