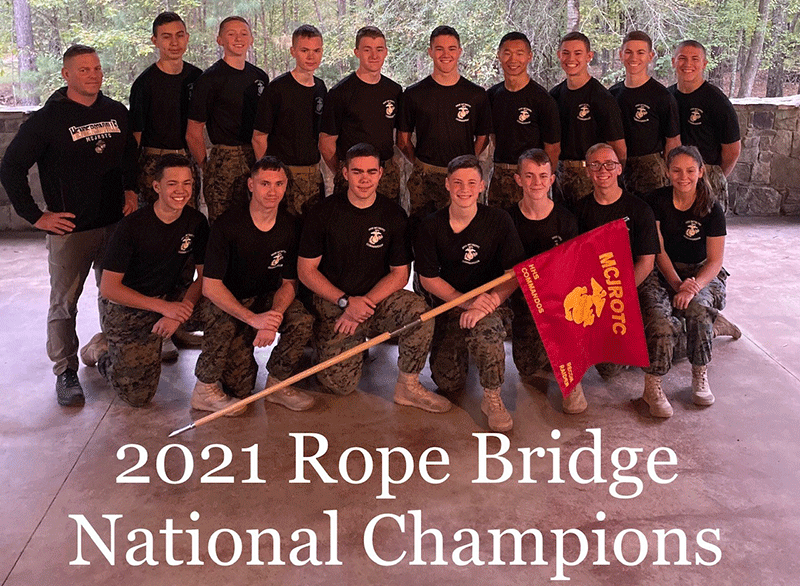 Hendersonville High's JROTC Wins National Championship
Hendersonville High School's Marine Corps Junior Reserve Officers' Training Corps (JROTC) program can add national title to their list of accomplishments. The team competed against competitors from across the nation in grueling physical events and came out victorious in the 2021 All-Service Raider Nationals Tournament winning the title of 2021 Rope Bridge National Champions.
"These cadets worked their tails off. They started the day after last season ended with the goal of winning a Rope Bridge National Championship," Lt. Col. Jeff Stone, Senior Marine Instructor said. "They wrote the goal on the board and went to work. They trained four days a week all summer when other teams went on vacation. They trained in all weather conditions heat, cold, rain, or shine. They worked together as a team, stay focused and positive for a full year and it paid off. I couldn't be prouder of them."
Physical events consisted of a 5K team mountain run, a one-mile obstacle course race with gear, a half-mile physical fitness test and the highly coveted 10-man Rope Bridge Competition. The tournament was held at the Gerald I Lawhorn Scouting Base in Molena, Georgia. HHS JROTC competed against teams from all military branches including Army, Navy, Air Force and Marines.
"This is an amazing accomplishment," Director of Sumner County Schools Dr. Del Phillips said. "Hendersonville's JROTC has an impressive resume, and it keeps growing. These students and their instructor represented Sumner County and the nation well and we couldn't be more impressed."
Hendersonville's JROTC was recently selected and awarded the designation of "Naval Honor School" for the 2020-2021 school year. Incredibly, it is the third time this designation has been bestowed upon HHS in the past four years.
Selection as a Naval Honor School means that the cadet leadership of the HHS Marine Corps JROTC program was in the top 10 percent of all programs in the southeastern region of the United States.
The Commandos are led by team captains, Cadet 1st Lieutenant Justin Mumaw, 1st Lieutenant Greydon Bleau and 1st Sergeant Bailee McCollum. Marine Corps JROTC is led by Lieutenant Colonel Jeff Stone.