Rucker Stewart Middle Wins Academic Team Title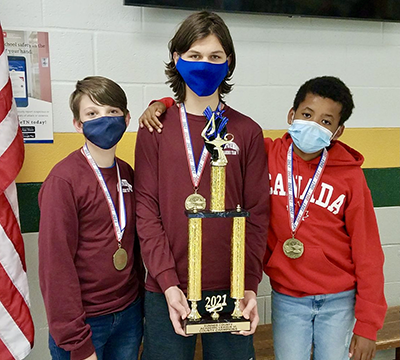 Rucker A 1st Place Team, (L to R): Danny McKiness, Gareth Turner, and Pierre Perrault
On Saturday, April 23rd the Sumner County Academic Middle School League held their 6th annual championship tournament. For the second year in a row, A team from Rucker Stewart took home the title after seven undefeated rounds.

Shafer Middle Team A was also undefeated in the previous seven rounds but fell short to Rucker A in the final match and finished in 2nd place. Third place went to Portland West's A team and fourth was awarded to Rucker Stewart C Team.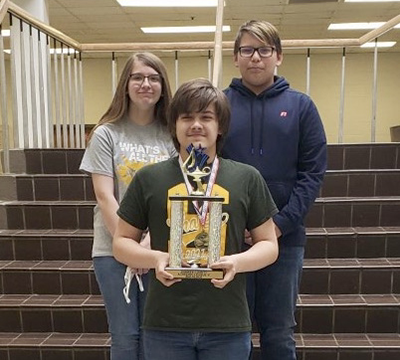 Shafer A 2nd Place Team, (Front): Andrew Wright; (Back): Mya Mimbs and Kameron Arnold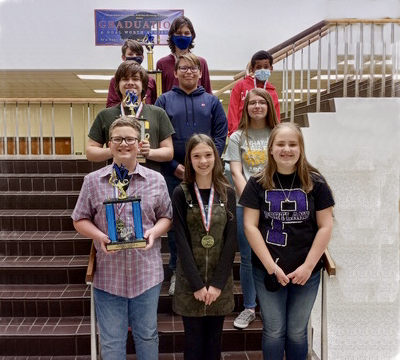 (Front Row): 3rd Place Portland West A (L to R): David Hill, Camden Bean, and Annabelle Henry; (2nd Row): 2nd Place Shafer A (L to R): Andrew Wright, Kameron Arnold, and Mya Mimbs; (3rd Row); 1st Place Rucker A (L to R): Danny McKiness, Gareth Turner, and Pierre Perrault
The All-County team was selected from the top 10 individual scorers in the county tournament. Andrew Wright from Shafer A led the tournament in scoring by averaging 67 points per match.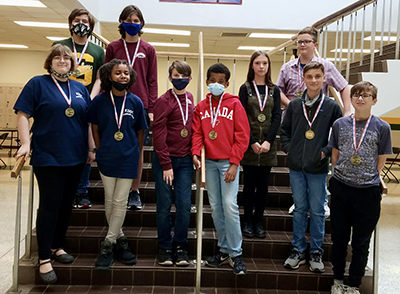 All-County Team: (Front L to R): Cecily Schoonover- Knox Doss, Carter McWilliams- Knox Doss, Danny McKiness- Rucker, Pierre Perrault- Rucker, Bryce Calhoun- Rucker, Eli Reed- Shafer; (Back L to R): Andrew Wright- Shafer, Gareth Turner- Rucker, Camden Bean- Portland West, David Hill- Portland West