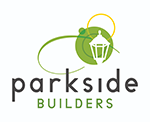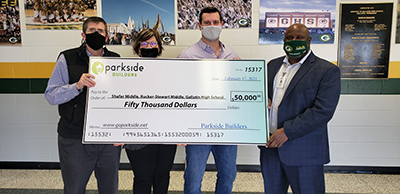 Picture (L-R) Gallatin High School Principal Ron Becker, Rucker-Stewart Middle School Principal Pam Harrison,
Parkside Builders President Brian Chastain, Joe Shafer Middle School Principal Thomas Oglesby
Parkside Builders Donates $50,000 to Sumner County Schools to Improve Student Technology

Gallatin, TN—Parkside Builders is donating $50,000 to Sumner County Schools to provide computer laptops to help close the digital divide and hopes other companies follow suit.

"We wanted to make sure students had an opportunity to be equipped and not at a disadvantage with technology," Parkside Builders President Brian Chastain said. "We would like to see other companies in the area match this donation and would love to come back with another donation in the future."

Chastain met with principals at Gallatin High School, Shafer Middle School and Rucker-Stewart Middle School Wednesday, February 23 and discussed the importance of children, education and giving back to the community.

"For Parkside Builders to show this level of commitment to our schools is a reflection of their commitment to making Sumner County a better place to live and raise a family," Gallatin High School Principal Ron Becker said. "We are extremely grateful and appreciative of the generosity of Parkside Builders and Brian Chastain. The new technology purchased with this donation will help strengthen and expand educational opportunities for students and that means a tremendous amount to us."

Parkside Builders originated in 2008 and has been a staple in Sumner County for the last five years. A family business, they are currently building in Hendersonville, Gallatin, Columbia and will soon begin construction in Antioch.

"Community partners like Parkside Builders serve to strengthen, support and even transform the scope of education. This donation will make a significant impact on our ability to equip our students with the skills and knowledge our children need to be successful," Sumner County Director of Schools Dr. Del Phillips said. "We are appreciative of the generosity of Parkside Builders."

Since April 2020, Sumner County Schools has provided free Internet access at specific locations for students and families throughout the county to better serve the community and to allow students and parents without home Internet access to view and use the online educational resources SCS has made available.

For more information about Parkside Builders, visit their website at www.goparkside.net

Parkside Builders - Communities

Waterford Village
3001 Kimley Shores Dr
Hendersonville, TN
Oxford Station
209 Mansfield Dr
Gallatin, TN
The Village at
Carter's Station
2804 Sonoma Way
Columbia, TN
Anderson Park
Hendersonville, TN
(Coming Fall 2021)
Ridgeview
Antioch, TN
(Coming Fall 2021)