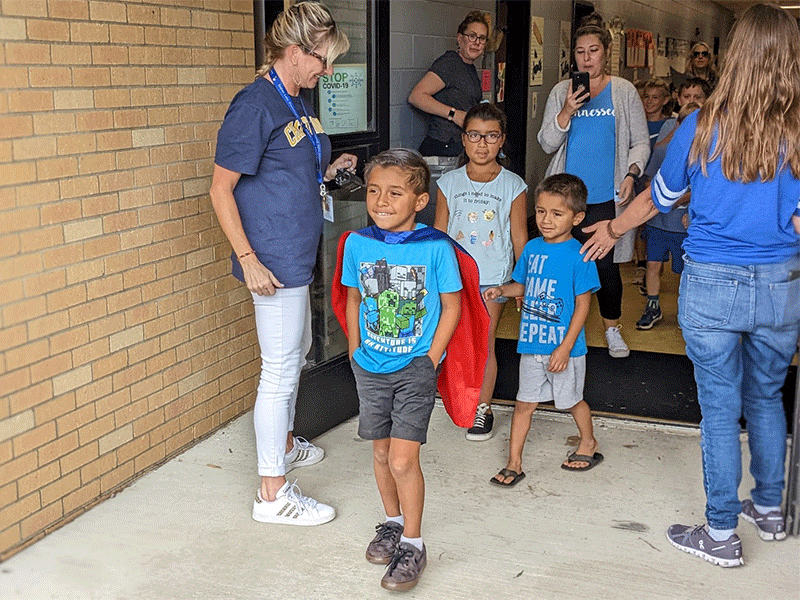 Superhero Student Donates Life-Saving Bone Marrow to Save his Brother
Indian Lake Elementary second grader, Davey Araoz, is a perfect match for his brother that is battling a rare form of leukemia. Next week he will undergo a bone marrow transplant to save his brother's life. Davey's school paid tribute to his heroism with a special send-off fit for a superhero.
"Indian Lake Elementary was honored to support our second-grade hero today with the help of the Hendersonville High School community," Indian Lake Elementary Principal, Jennifer McCay said. "We are in awe of his courage and sacrifice, and we look forward to seeing him when he returns."
A sea of blue, Davey's favorite color, extended around Indian Lake Elementary as Davey enjoyed a parade in his honor which included Hendersonville High School's band, football team, dance team, cheerleaders, basketball players, community members and his classmates.
"We're thankful and appreciative that everyone came together to show him support and to root him on," Davey's mom, Brandy Araoz said. "I think it will be helpful for Davey to look back on the pictures while he's going through everything. I think it will mean a lot to him for encouragement too because it can be scary going into a hospital at seven years old."
For more pictures, visit https://photos.app.goo.gl/zGB9iqab1KfW2onKA