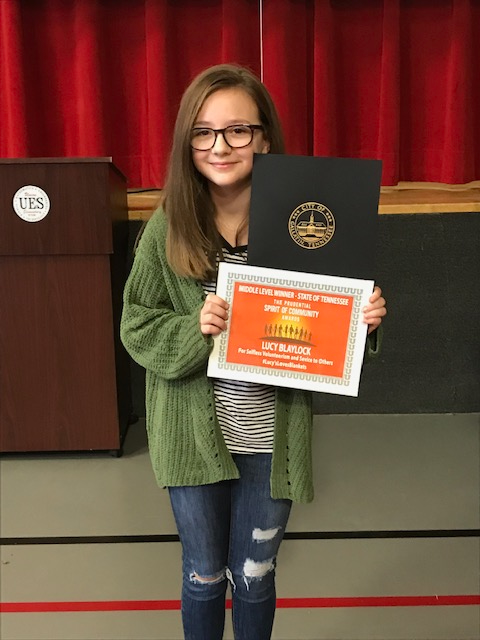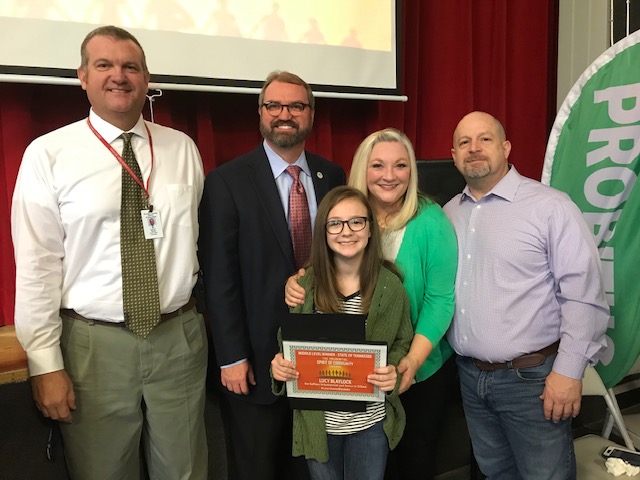 It was surprise that only Principal Lance Taylor and the parents of award winner, Lucy Blaylock knew about! Students and teachers gathered in Union Elementary's gymnasium for an "assembly," but in reality it was to surprise 5th grader, Lucy Blaylock as Tennessee's Top Middle Level Youth Volunteer for 2020 by the Prudential Spirit of Community Award program!
In addition to receiving a $1,000 scholarship, Lucy is now eligible for a national award, with an invitation and expenses paid to the May 2-5, 2020 Prudential Conference in Washington, D.C.
The Spirit of Community Awards recognizes young people who've made a difference and inspire others to contribute to their communities.
Lucy makes love blankets for people who are ill, having a difficult time or have lost a loved one. She has provided hundreds of blankets to children and adults not only in the Union community, but throughout the world.
In recognition of her dedication, accomplishments and acts of kindness, Gallatin Mayor, Paige Brown, issued a proclamation from the city of Gallatin declaring it "Lucy Blaylock Day."
Previously, Lucy earned the Volunteer Star Award from Governor Lee and was recognized at last year's Volunteer TN banquet.
As part of the surprise, students and staff were asked to dress in green, Lucy's favorite color.
Mr. Taylor nominated Lucy because of her huge heart for others and how she contributes, in a positive way, to our world. He also encouraged students to love like Lucy and be kind to one another.