Teams from Sumner County Middle Schools participated in the 6th Annual Fall Invitational Quizbowl held at Gallatin High School on Saturday October 22. Merrol Hyde Magnet, Portland East, Rucker-Stewart, Joe E. Shafer, and Westmoreland Middle School entered teams into the competition that included 22 teams from Middle Tennessee and South-Central Kentucky.
Overall the teams from Sumner County had a great showing. Merrol Hyde Magnet won the overall Championship by defeating a team from Danville, KY. Joe E. Shafer, Portland East and Rucker-Stewart finished 6th, 7th and 8th overall respectively.
In the individual portion of the tournament, the top 20 individual scorers were awarded medallions. Owen Flanagan of Merrol Hyde Magnet was the top scorer for the day out of 104 participants. 2nd in the scoring was John Hutchinson of Portland East. Lucas Bolinger of Rucker-Stewart finished 5th, Bailey King of Westmoreland placed 14th, Ben Huff of Merrol Hyde Magnet and Chris Wright of Rucker-Stewart finished tied for 16th overall.
The Sumner County Middle Schools teams that competed in the Invitational Tournament, along with Portland West, T.W. Hunter and Hawkins, are also participating in the Sumner County Academic League. The league is a round-robin format season for the quizbowl teams. The teams are currently at the half-way point of the season, with the season ending tournament to be held at Gallatin High on February 11, 2017.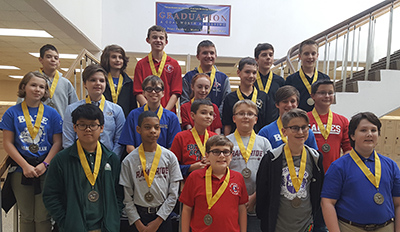 Pictured are the top 20 individual medalists for the 6th annual GHS Fall Invitational Quizbowl.