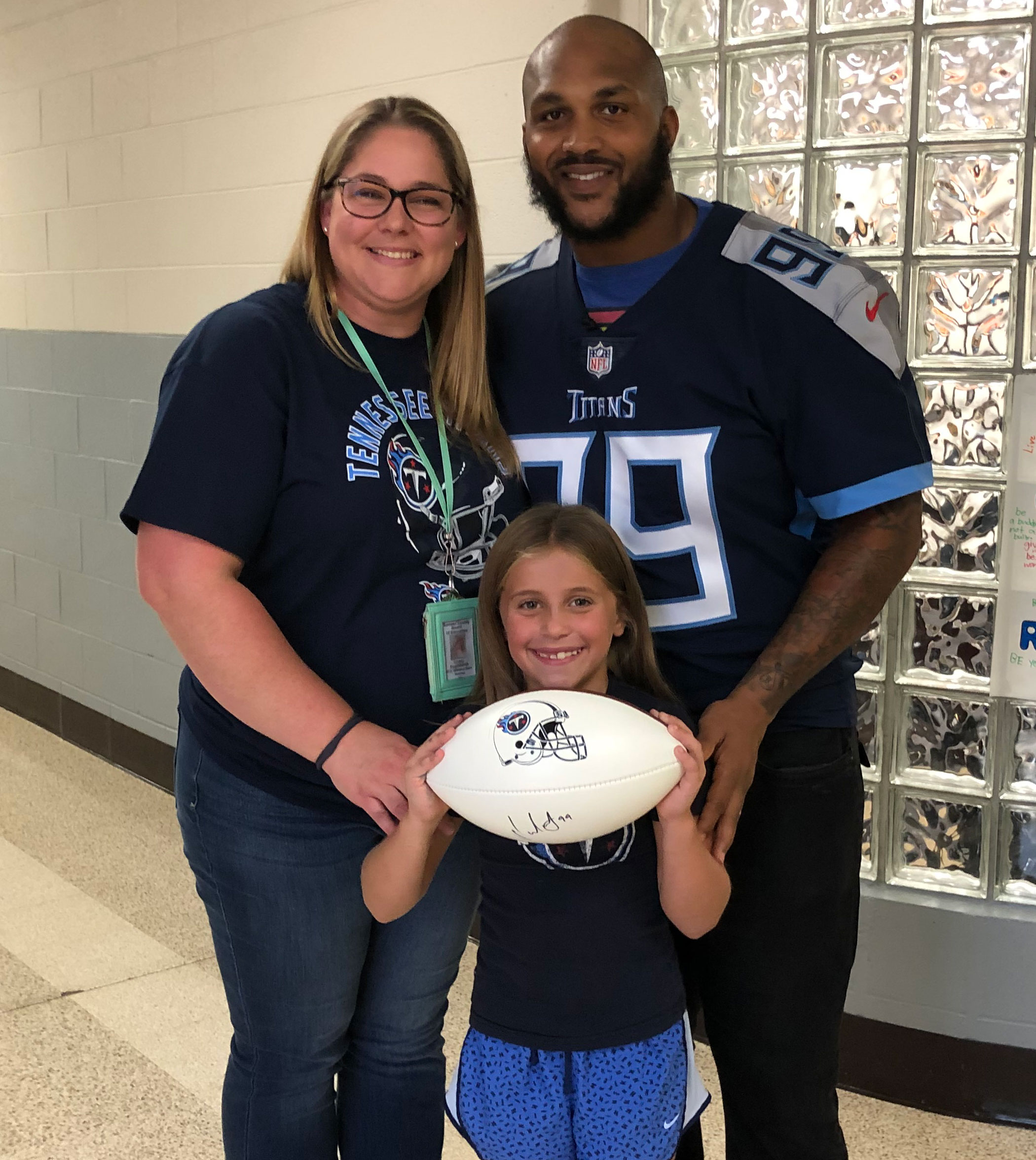 (Pictured L to R Teacher Carrie Engelhardt, Kynlie Powell, Jurrell Casey)
A third grade student at H.B. Williams Elementary got to bring a special guest with her to school! Kynlie Powell won WKRN's Bring a Titan to School contest. Kynlie is a new student at the school and wanted to get advice from a player on making friends and spreading kindness.
On Tuesday, October 1 Tennessee Titan, Jurrell Casey, received a warm welcome from students and took part in an art project with Kynlie and her classmates. They talked about how to treat others with respect, kindness, caring and sharing. Thank you to the Tennessee Titans, WKRN-TV and Jurrell Casey for this amazing experience!

Bragging rights and a cash prize are on the line for some Sumner County High School students. A challenge has been issued to students at Beech High School. Their mission, which they have accepted, is to build a rover from scratch that must travel the space between Mr. Harris's classroom, down the hall, into Mr. Roberts's classroom, retrieve an object and return it safely with 2 astronauts on board. Students are not allowed to accompany the vehicle or assist any way other than by remote control and the driver must stay in Mr. Harris's classroom the entire time.
This challenge, aka BHS Challenge, came to fruition after Digital Design and Imaging Teacher Albert Roberts received a new neighbor, Engineering Teacher Josh Harris. The mission has been a collaboration between 'worlds', with the engineers and the designers working to create teams, logos, vehicles and even videos to communicate with one another. Mr. Roberts says the idea is in the Spirit of Space X, which offers a significant cash prize and he is donating $100 of his own money to the winner! Both teachers say, this challenge has forced students to overcome obstacles and use their critical thinking skills to overcome any problems they face.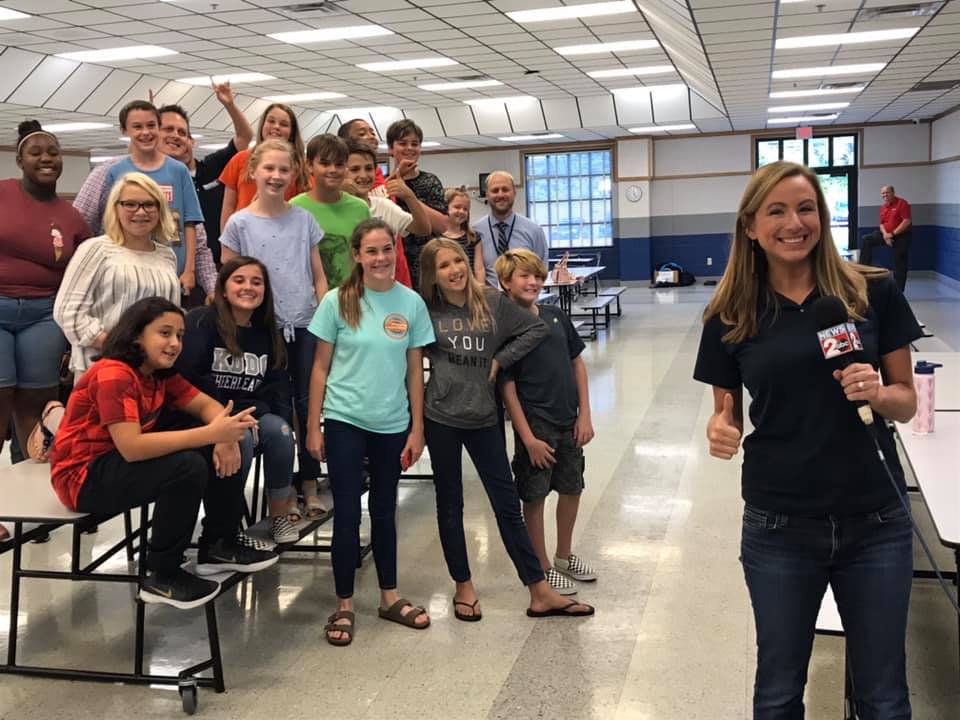 Members of the WKRN News 2 Weather Authority Team took over Knox Doss Middle School. Weather Anchors, Danielle Breezy, and Jared Plushnick included KDDC students in their live weather report, Thursday, September 12th. After finishing the weather report, students got to ask the meteorologists any question they wanted and learn about the TV broadcast business.
Students enjoyed this unique opportunity to see how a live television broadcast works, which is something students are already familiar with.
KDDC students have their own television broadcast. It's called Mustang TV and it airs every morning at 7:30am. Students arrive early, put together a script and then go live on air! Mustang TV is under the leadership of KDDC Teacher Mr. Benson.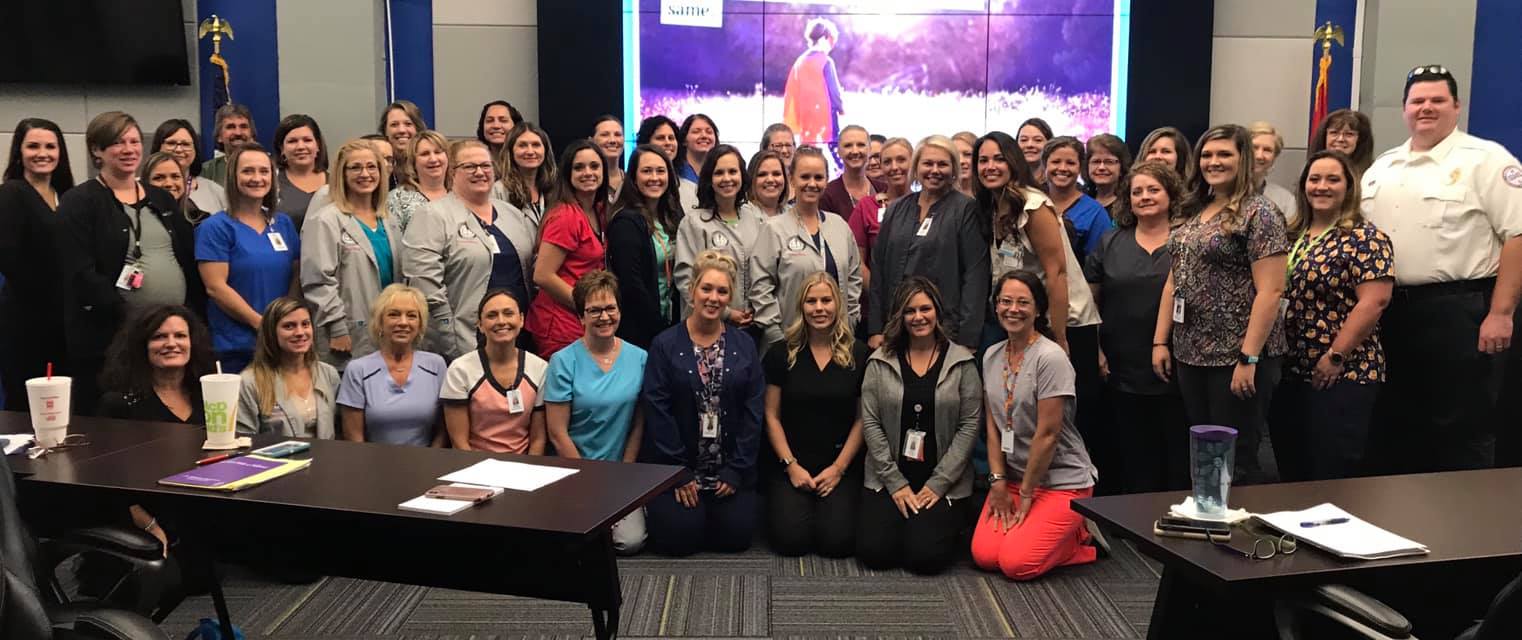 Sumner County School nurses are taking extra steps to keep your child safe! Every nurse in our school district participated in PEARS training (Pediatric Emergency Assessment, Recognition and Stabilization) on Monday, September 16. In this course, our nurses learned to stabilize pediatric patients in an emergency situation. During PEARS, nurses interacted with real patient cases and realistic simulations. The real life scenarios help to prepare our nurses and keep them sharp, so they can provide appropriate lifesaving interventions within the initial minutes of response until a child can be transferred to an advanced life support provider.
The PEARS training is in conjunction with Sumner County EMS and Monroe Carell Jr. Children's Hospital at Vanderbilt.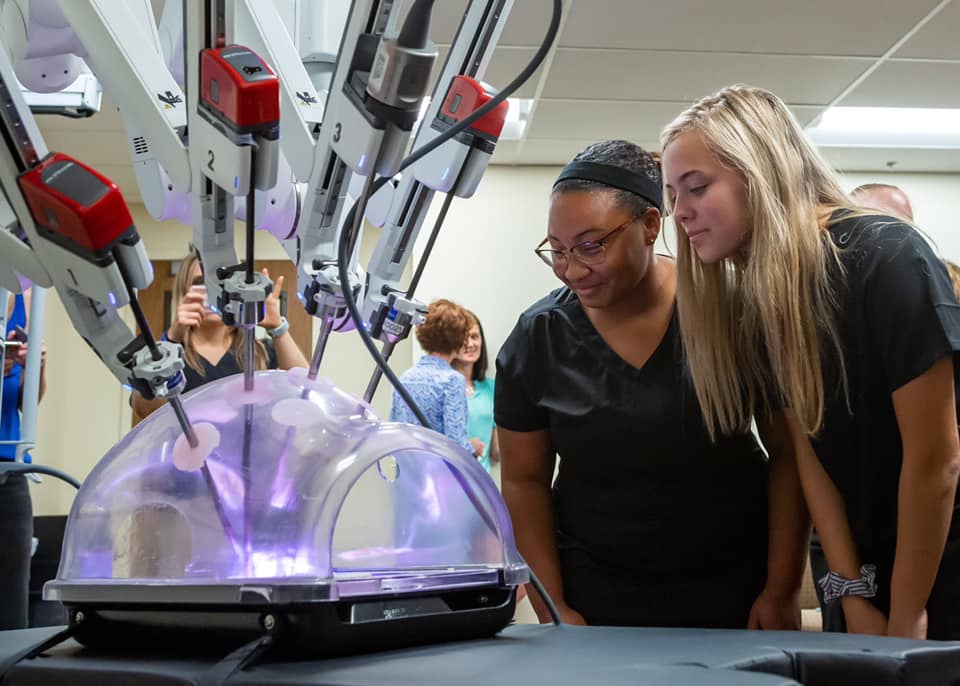 Sumner County students got to try their hands at robotic surgery through a simulation with TriStar Hendersonville Medical Center. The hospital graciously hosted all three Hendersonville High schools - Merrol Hyde Magnet, Beech High School and Hendersonville High School.
Students studying Health Science, Biology and Robotics participated in a one-hour open house that included a brief demonstration of the robot and a meet and greet with with surgeons. Every student in attendance had the opportunity to "test drive" the da Vinci robot.
"I already had an idea of what I wanted to do. I wasn't sure if I wanted to be a doctor or a surgeon and this helped with my decision," Hendersonville High School Senior Rachel Bleau said. "Getting the opportunity to do this and see what robotics can do with medicine is a great opportunity. I am so happy I had this."
Special thanks to TriStar Hendersonville Medical Center for hosting this amazing event! Also, thank you Dr. Brent Nason, OB/GYN; Dr. Chad Swan, Thoracic/Vascular Surgery; and Dr. Loucinda Dampier, General Surgery, for taking time out of their busy schedules to demonstrate the robot and speak to students.